gnite or rekindle romance in one of our spacious and well-appointed guest rooms. Your room at the inn was planned with all your comforts in mind. Each room has a private bath with a choice of steam shower, whirlpool bath and shower, or soaking tub and shower - all in a smoke-free environment. Queen-sized beds and exquisite linens enable you to sleep the night away!
Stay in one of the three guests rooms: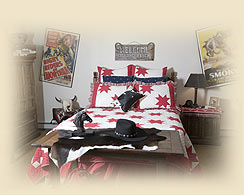 A nostalgic glimpse of cowboy lore; history comes alive in this room with memories of the buckaroos that pioneered the "Wild West."
$150 per night, double occupancy
A collection of Western legend and folklore to read
Tiled bath with a jetted tub and large corner shower
Views of both the front yard pond and forested back yard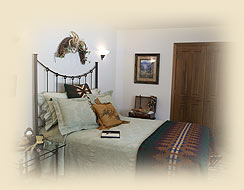 In the legacy of Native American tradition, this room is filled with Indian art and the soft aroma of ceremonial sweet grass.
$115 per night, double occupancy
Tastefully decorated with Indian beadwork and art
Tiled bath with soaking tub and large corner shower
Great views of the front pond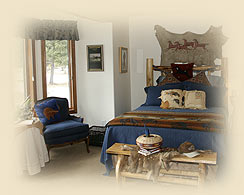 Inspired by the legend of the powerful "Running Horse," the painted hide, antler fixtures and log bed evoke our Native American tradition.
$115 per night, double occupancy
Hand-hewn log bed and bench
Tiled bath with oversized steam shower
Panoramic views of the forested back yard